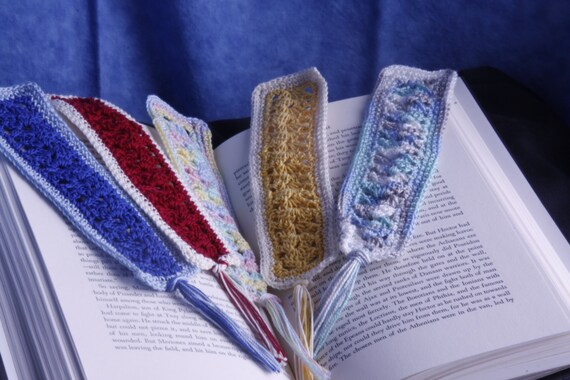 Hi Sherrie, please tell us more about your lovely shop, RockyMountainYarn. What types of items can people find in your shop?
People can find many different types of homemade items. Crocheted items will be my main focus--bookmarks, ornaments, and wreaths--but I will also be making beaded horseshoes and paper items such as tags and cards.

What inspired you to start your shop on Etsy?
I have always enjoyed doing crafts and especially like crocheting. I find it relaxing and enjoyable. I was not able to crochet much when my children were younger but really wanted to start up again now that they are older. My problem was finding things to make that I could use--I was running out of ideas. I know several people who have Etsy shops and decided I could make things to sell rather than just things that I can use. I have loved experimenting with different patterns and ideas.

What types of bookmarks do you sell in your shop? How are they made?
The bookmarks that I sell are hand crocheted. I have really enjoyed experimenting with different ideas changing patterns I've found or coming up with my own. I only put designs up that I feel are not too thick or too flimsy as I don't want them to hurt the book or fall apart.

Do you have any new bookmark designs that have just been added or are coming soon?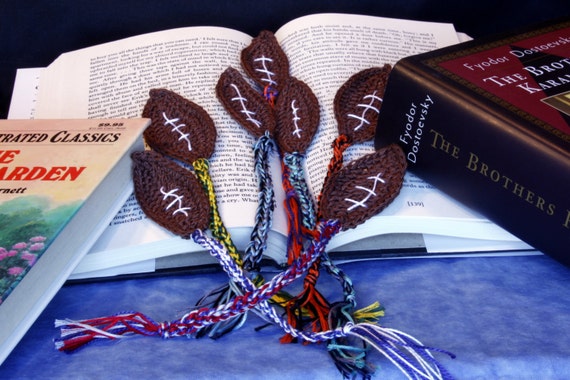 YES. I am hoping to add quite a few different designs over the coming month or two. I have some heart and flower designs that I am working on. I am trying out some holiday designs and am hoping to find a couple that I like. I am also experimenting with a combination of paper and crochet--so I can incorporate both my love of stamping and my love of crocheting.

When you make your bookmarks what types of materials do you like to use best?
I like using cotton size 10 thread and I usually use 2 strands. I've found this provides a good balance between thickness and flimsiness. I've found that many other yarns create bookmarks that are too thick and I wouldn't want to use them in many of my books. But just 1 strand of the size 10 thread can be very flimsy and I would be afraid it would get snagged and ruined too easily. I really like the look and feel of using 2 strands of the size 10 thread.

If you had to pick your favorite bookmark design you have made, which bookmark would it be?
I think my favorite design is a heart design that I am hoping to have up on Etsy soon. It has a heart on top then a "tail" that goes in the book and a bead at the bottom. I love the added look of the bead.

What would you say is your favorite part of making bookmarks and other items to sell on Etsy?
I just really like doing crafts. My grandmother taught me to crochet when I was very little (1st or 2nd grade) and I have enjoyed it tremendously ever since. I have also tried many crafts over the years and am always looking for new things to try. I love being able to spend my time doing things that are enjoyable but then being able to sell them on Etsy so they are put to good use.

Other than bookmarks, what are some of your favorite items you have made to sell in your shop?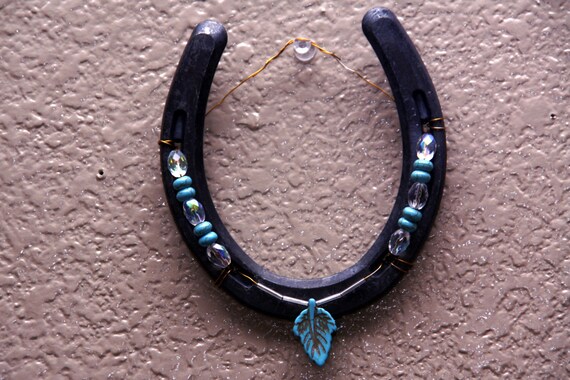 I've really enjoyed making the beaded horse shoes. It is different from other crafts that I do so it has been a great learning experience and has expanded my creativity. I also really enjoy paper crafts and am looking forward to getting more of those up on Etsy.

Thank you for taking the time to do a interview Sherrie, do you have any final thoughts or up coming new items you might want to tell everyone about?
I am hoping to add quite a few new things to my Etsy shop over the next several months. I started it last November but then decided to spend most of my spring making things for Teacher Appreciation week at my kids school. We were rezoned to a new school so it was my last chance to do something special for all the teachers we had come to admire. It is quite a large school so it took up most of my spring. Now that summer is over and I have my days back I am looking to add things on a regular basis. I am working on some crocheted Christmas ornaments that I am really excited about along with tags and cards.
Thank you for the opportunity to be interviewed.