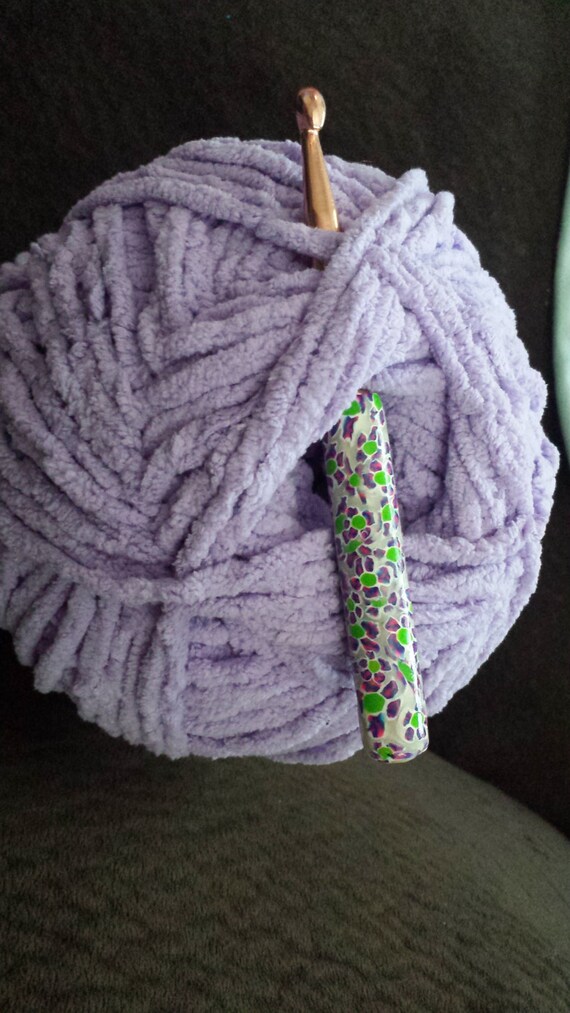 Hi Brienne, please tell us more about yourself and your lovely shop, SnuggleBunnysCorner.
What inspired you to start your shop on Etsy?
* I am a wife and stay at home mom of six. My kids love anything creative, and they inspire me to be creative with them. My children are actually behind a lot of my handle designs!! My shop is named for my youngest daughter, who my mom nicknamed Bunny. I opened the shop on Etsy after I had been selling hooks and hook sets locally for some time, at the urging of family and customers.

I have always loved buying on Etsy and the personal touch that comes along with buying hand created products. There is a piece of someones heart and soul poured in to these lovely treasures. I wanted to offer others the products I pour my heart and soul in to.


What type of process does it take to make a polymer clay handled crochet hook?
* I make several types of hook handles, but all of them are very similar processes, I start with solid color blocks of polymer clay. From those blocks I create hand made clay canes. These can be simple like swirls or stars, and soccer balls to very complex like a stargazer lily or a rooster, a butterfly or just about anything you can imagine. Then the canes have to set in the fridge to be hard enough to slice very thinly. Once they are set, I layer thin slices on to a brand new crochet hook. A handle can be a solid color with designs layered on, or layers and layers of different designs incorporating translucent clay to create more depth. The hooks are then fired after being shaped. They cool and are then sanded through multiple grits and buffed then sealed to keep them beautiful as long as you own them.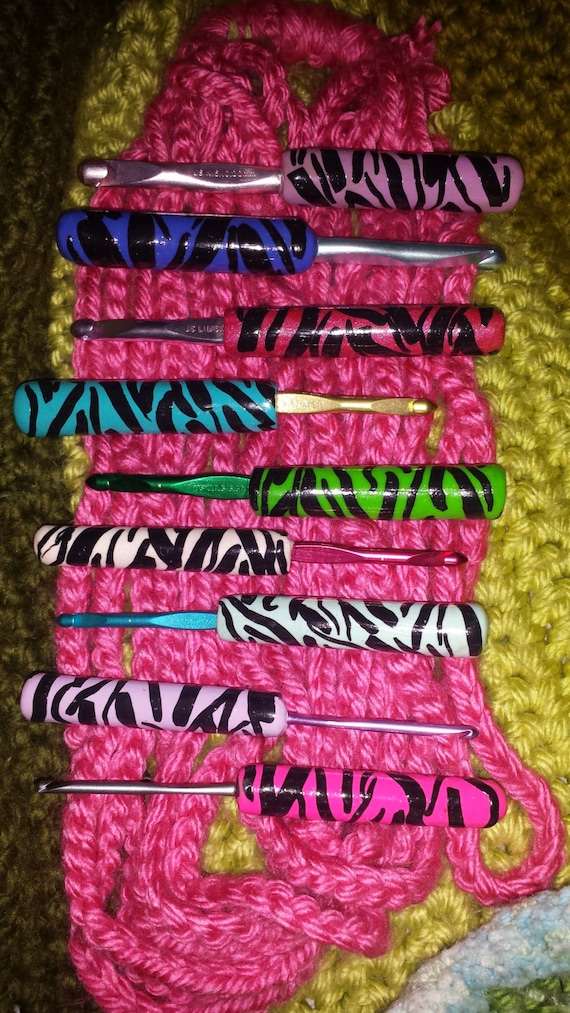 What are some of your favorite handles that you have made?
* I love a lot of the hooks that I have made, but some of my favorites would be a set I made for a customer right after she lost her grandma. Her grandmas favorite flowers were Stargazer lillies, and we made a set in honor of her grandma with those lillies on the handles. I've also really adored a patriotic set I made for a military wife who made crochet blankets for other soldiers children. And a set of breast cancer survivor themed hooks for a cancer hero. I absolutely love to make hooks that mean something to the person I am making them for.


What would you say is your favorite part of making polymer clay handled crochet hooks to sell on Etsy?
*I would say that getting to connect with someone and make their vision a reality for them to use and create with is a treasure to me. And absolutely getting to involve my kids in my creative process makes it all the more rewarding.


Thank you for taking the time to do an interview Brienne. Do you have any final thoughts or upcoming items you might want to tell everyone about?
* I'm actually working on adding crochet items to my store along with clay canes and a line of Holiday, Faith and Inspiration themed hooks and sets. Thanks so much for your interest and have a blessed day!!